American Eagle Canoes feature our exclusive DryFloat designs. Every canoe hull produced by our factory has been carefully modified with an extended chine to push oncoming water down and away from the boat. This feature remains invisible until the craft enters a rough water situation. Whitewater rapids, wakes or waves charging the hull are channeled with hydrodynamics down and out from the craft. This action creates the DryFloat characteristics so popular with American Eagle owners. An additional benefit of this technological application is the lift associated with the DryFloat system, redirection of water from the boat produces an upward lift. This reaction allows the canoe to ride up and over, rather than through turbulence. American Eagle has combined advancement with classic style, producing a line of canoes far superior to those built before.
Aquila 16 starting at $1749
This practical 16' canoe has been designed to be paddled or powered. At less than 100 pounds it is light enough to transport on even the smallest vehicles. Its length and width make it extremely comfortable. Its multi-use design was created to fulfill a variety of recreational uses including hunting, fishing, camping or just casual cruising. For stability and durability the Aquila competes with them all. It features our exclusive DryFloat design.
Tawny 14 Starting at $1699
Small and agile this tough canoe will haul the mail. Under power or paddle, this cart will cater to its passenger and gear. Like all American Eagle products, Tawny features the exclusive DryFloat design. Fun and functional come together under the Tawny name. If you love to get out on the quiet lake or take the family off into the wilderness for adventure this canoe is for you.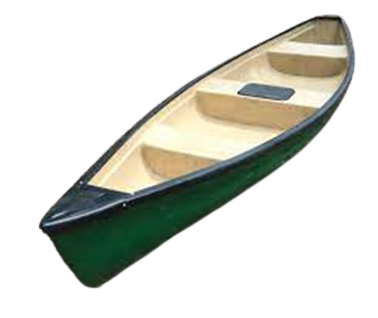 Eaglet 11 starting at $1549
This small yet highly capable craft is great for the solo paddler or young adventurers. It is built strong and stable featuring our DryFloat design to provide years of pleasure.
Chaco 15 starting at $1725
This sleek touring canoe is designed with the paddler in mind. Beginners and veterans alike find that this small keel design tracks and maneuvers extremely well in even the narrowest river. Featuring our DryFloat technology makes this seaworthy craft one of the best.
The popular classic go to
Javan 15 starting at $1699
Considered by many to be the perfect platform for outdoor adventure. Strength, stability, and classic design combined with DryFloat technology makes this canoe one of our most popular.
Practical size and capable craft
Pygmy 13 starting at $1599
This wonderful craft will take you anywhere you want to go on the water with plenty of space yet small enough to carry on any vehicle. Featuring our DryFloat technology it is the perfect size for many adventurers.